It is possible to make a full time income with your blog even if you don't do sponsored posts and you don't have a product to sell.
Blog Income

It's been a few years since I shared an income report here. It's one of those things that I've gone back and forth about doing. Is it right to share such personal information publicly? Does it have any benefit to other bloggers since not all blogs are the same? Does it lead to people getting disheartened because they compare their start to someone else's middle?
Over the Christmas break I spent a lot of time digging into my blog and income stats for 2017 and it made me realise that for the whole year I had just been "doing" without very much actual planning, and certainly with no clear goals in mind.
At the start of 2016 I had set out to be able to make our mortgage payment each month, and I was doing that, so why on earth had I not gone on to set myself a more stretching goal to aim for?
And that's one of the reasons I've decided to resurrect this monthly Income , to hold me publicly accountable for how I'm running my business. (Yes this is a business and not a hobby.) To force myself to set goals and to track my progress against them.
And to make sure I stop doing something I was very guilty of in 2017… buying blogging courses and ebooks just because the money was there, and then not actually implementing what I'd learned (or gosh in some cases even finishing reading or watching the darn things!)
I hope that by sharing this you will also find the information useful. Maybe you'll learn something new, or be able to avoid any mistakes I make along the way (because that's the fun of blogging right? being able to test stuff out, fail miserably and then move on and try something else!)
So enough background waffle… let's get onto the bit you're really here to see!
Blog Income – December 2017 – $5212
I knew December was going to be a good month for me because I had my first ever properly viral post. The kind of post that left my server clinging on for dear life and meant I had to stump up some extra cash to upgrade it. I've been blogging for 15 years in one form or another (this blog is 5 years old) and that is the first time I've ever had a viral like that. (Those people who make a full time income in their second month blogging are actually pretty rare you know!)
But I was still surprised when I added up my income and saw it started with a 5!
Here's a breakdown:
Total Income – $5212
Advertising Income – $4653
Affiliate Income – $559
Yep, that's it. Just two income streams. I know I could make a lot more if I did sponsored posts or launched my own products. I avoid sponsored posts because most opportunities are US based and I don't live there, plus I don't like being beholden to other people when I write for my site, it puts pressure on me that makes me anxious and I don't need more stress in my life! And product creation is on my list for something to work on in 2018.
Of course that's not all profit in my pocket because I have expenses to keep my site up and running. Let's take a quick look at those too:
Total Expenses – $109
So that leaves me with $5103 before I hand over a share to the tax office.
And just in case you're interested to know how many visitors it took to generate that income… 248,127 to be exact. And 88% of them came from Pinterest.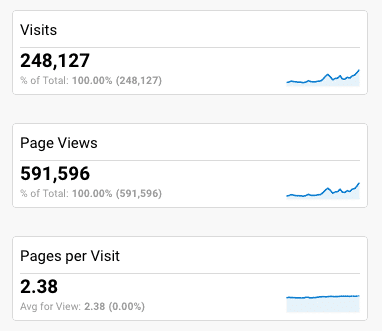 That screenshot is from one of my handy dandy Google Analytics dashboards that I set up to keep a track of my website stats. If you'd like a free copy just click the button below.
What did I learn in December 2017?
I took two courses in December, both related to Pinterest, and yes for once I actually followed through on both of them and saw positive results.
Billionnaire Pinterest
The first course was called Billionnaire Pinterest which is a video based training course by a guy called Scrivs. I'm always looking for ways to take my Pinterest account to the next level so I decided to invest.
So many Pinterest courses seem to just cover the same old ground… get rich pins, join group boards yada yada…
But Scrivs goes into a lot of detail about his actual pinning strategy and most importantly WHY he does what he does on Pinterest. He has a relatively small Pinterest following compared to mine but still manages to drive decent traffic.
I took action straight away and made some tweaks to my BoardBooster campaign set up. Then I changed the way I create pins for new posts to reflect what he said.
Did it make a difference? Well I think so. I published 5 new posts in December and the current pinterest counts on those posts (in order of publication) are:
52,500
5,600
255
9,200
727
I class a viral post as one that has over 1000 repins, so out of five posts three went viral within 30 days, one is pretty close and the other one obviously needs to be reworked and pushed out again!
The training covers everything from why you should use Pinterest all the way through to how to use it effectively and is good for beginners through to advanced level. I highly recommend it.
Pinterest Affiliate Marketing 101
The other course that I went through and implemented in December was a free course about monetising your Pinterest account with affiliate links.
To access the course you need to go to this post and then scroll half way down and hit the green Yes Please! button.
As I said the lion's share of my blog traffic comes from Pinterest, and I have some affiliate links on my website, but I'd never had any luck in putting affiliate links directly onto Pinterest before.
Christina's free course was a complete eye opener. She explains how she makes her affiliate pins more appealing for Pinterest users so that they actually want to click on them, and shares an affiliate programme that is free to join and pays by the click! That's right, the Pinterest user doesn't even have to buy anything, as long as they click on your pin you get paid.
I decided I would do a little 30 day challenge, and during the course of December I made 5 affiliate pins each day and pinned them and by the end of December I'd made $160. Not bad for a side hustle that took about half an hour a day and was totally fun!
The great thing about affiliate pins on Pinterest is that they just keep making the rounds so it's about as passive as you can get income wise. I'm making this a permanent part of my business in 2018.
And that's about it for this month's update. I need to spend a little more time working on my goals for 2018 and then breaking them down into action steps so I can make them a reality!
Pin these ideas!
Hit the button to save these ideas for later.
Don't forget to
follow us on Pinterest
for more great stuff!
&
---