I was just adding some affiliate links to the sidebar of one of my blogs when it occurred to me that they weren't set to nofollow, and they weren't opening in a new window.
I don't want to fall foul of the Google Gods so I thought I'd better figure out how to fix that fast… and then let you know how to do it too!
How to Nofollow Menu Links and Open them in a New Window
It's super simple once you know how! Here's how to do it…
Step 1 – Add the options

Open up your menus screen in WordPress and select the menu you want to edit
Click the Screen Options button that is way up in the top right corner (note in the picture the button has already been pressed. You won't see those options until you press the button)
Check the boxes next to Link Target, Title Attribute and Link Relationship
Step 2 – Edit your links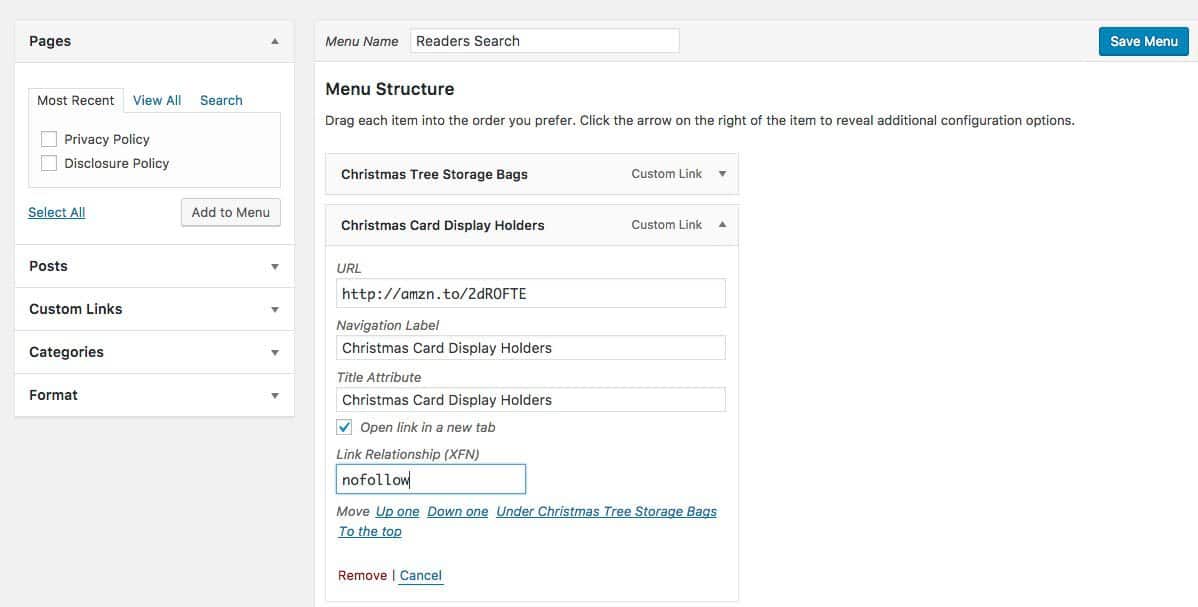 Click on the little down arrow next to your menu entry to open up the options for that entry
Fill in the title attribute – this can be a longer version of your navigation label and is a good way of getting a keyword in there
Check the Open link in a new tab box if you want it to do that
type nofollow in the Link Relationship box
Edit all the menu items in the same way
Click the blue save menu button
Why Would You Want to Nofollow Your Menu Links?
If you're wondering why you would even want to nofollow your menu links… here's a couple of examples!
To stop sending link juice to your privacy pages
You should have a menu on your site that allows your readers (and the google bots) to find your privacy page and also your disclosure policy.
If you think about it there is a link to both of those pages on every single post and archive page on your site. That is a lot of links!
When you send a lot of links to a page you are telling the search engines that it's a super important page. But really they're not. You just want people to be able to read your privacy policy – not find it in the search results!
So go ahead and nofollow those links.
To abide by the Google rules for marking affiliate links as nofollow
If you're following along with the Amazon strategies in PotPieGirl's "What Works in 2016/17" ebook then the easiest and neatest way to implement Strategy Five is to create a custom menu and then use the menu widget to insert the links in your sidebar.
And since those are all affiliate links they need to be nofollow and set to open in a new tab so you don't lose your reader!
No idea what I'm talking about? You can read more about PotPieGirl's strategies and why I love them here!