Wow! I had no idea that Tailwind Tribes could have this kind of effect on my pageviews! My visitor numbers skyrocketed in just 3 months!
How I Earned over $700 Last Month Thanks to Tailwind Tribes

A few months ago I was chatting to another blogger about Tailwind Tribes, and how I really loved the idea of them but the interface was really slow and clunky and it just felt way too tedious to take seriously.
Then when I was rooting around in Google Analytics looking for something else entirely the words "tailwind_tribes" jumped out at me. Clever Tailwind tag the pins that are shared from within their Tribes, and in the month of June they'd sent me 4,397 visitors.
That accounted for 6% of my entire Pinterest traffic, which when you put it like that doesn't actually sound a lot. But 4,000 visitors to my site that I did not have to pay for? That I liked the sound of!
So I decided to dedicate some more time to Tribes and see if I could make that number grow.
I added some more tribes to my list, and I spent about an hour each week scheduling pins from the various tribes, and then spent 2 minutes each time I published a post to add the pin into the relevant tribes.
And each month my traffic from Tailwind grew just a little more until in September I had 55,235 visitors from Tailwind Tribes which accounts for half of my Pinterest traffic for that month!
I was completely blown away by that, especially when I worked out that based on my session RPM those visitors generated about $700 in income!
Keep reading to find out more about what I did but before you do I just want to say that I'm sharing my personal results but I'm making no promise that you'll see the same results. Tailwind publishes the Typical Results of Tailwind for Pinterest Members every year, so you can see exactly what the average growth rate looks like for their members.
Hang on a Minute! What on Earth are Tailwind Tribes?
Tailwind Tribes are sort of like a combination of Pinterest Group Boards and Pin Trading Facebook groups combined into one.
You join a Tribe and you add your pins, and in return you save pins that other bloggers have added. Most Tribes have a rule to save one pin for every pin you add in.
The Tribes are usually themed around a niche, say Food, Desserts, DIY, Craft, Crochet, Beauty etc. Then there are some Tribes that allow you to share pins from any niche, and others that only let you share "viral" pins, that have been shared over 1000 or even 5000 times.
Now I've got my head around them I love Tribes more than Pinterest group boards because they are easier to keep track of. Tailwind shows me how how many pins I have added into a tribe, and how many I have shared (I always like to share at least 2-3 times more than I put in to help keep the tribe active).
If you don't have an account with Tailwind already you can join via this link and you'll get a $15 credit to try it out.
How Many Tribes Should I Join?
You don't want to be a member of a million tribes because that's just way too many to keep up with. Don't forget that every time you add a pin of yours into the tribe you need to share at least one from the tribe. So you need to focus on the tribes that will give you the most bang for your buck.
When I set out to maximise the effect of Tailwind Tribes I was on the search for good quality tribes where other bloggers were active, both adding their own pins and of course sharing other people's.
Right now I'm a member of about 30 tribes, but that's because my blog covers multiple niches. I think 8-10 for a niche is about right.
How Do I Decide if a Tribe is Worth Joining?
My strategy is to join the tribes that look relevant based on the niche (and I also love joining the viral pin tribes) and then once I'm inside take a look around to get a feel for how useful I think that tribe will be.
Here's a screenshot of the Kid Pins Going Viral tribe which is part of the Kid Blogger Network.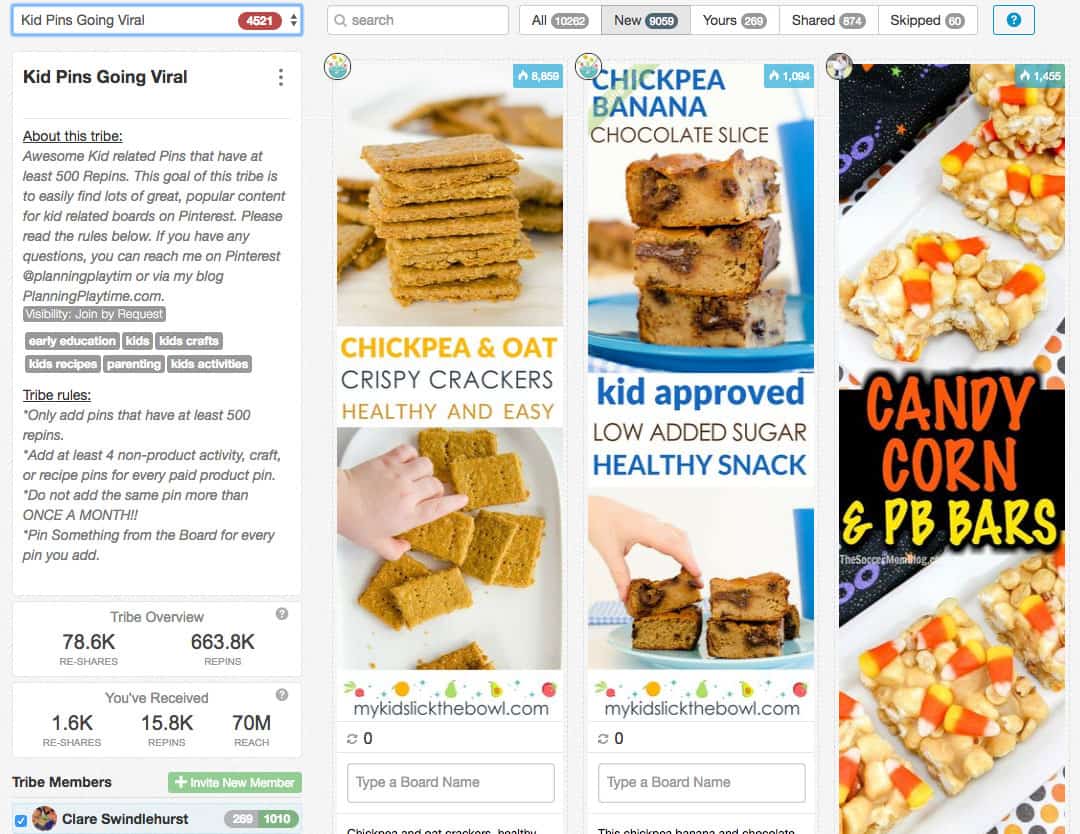 I look at:
Number of active members – On the left of the screen you'll see a list of members and number next to them which says how many pins they've added. Members with a 0 against their name haven't added any pins to the tribe, which means it's quite likely they haven't shared any either. If more than half for the members are inactive I question the value of the tribe.
Whether or not I like the pins – On the right hand side of the screen you'll see the pins that have been added. You have to want to share from this tribe if you want to be a part of it, so if you look at the pins and think ugh I couldn't share any of those it might not be a good fit for you.
The tribe stats – on the left hand side is a box that says Tribe Overview. The figure on the left shows how many pins have been shared via the tribe, and the number on the right shows how many repins those shares have had on Pinterest. Personally I like the number on the right to be at least double that on the left, because it means for each share from the tribe it's getting at least 2 repins out on Pinterest. The bigger the gap the more valuable the tribe because it means there are some power pinners in there!
How loved your pins have been – If I decide to stick around and participate in a tribe I also keep an eye on the "You've Received" box because it shows how many times your pins have been shared, the number of re-pins generated, and the estimated reach on those pins.
Here's an extra tip for you. If you see tribes that ask for viral pins of say 1000 or 5000 or more and you don't have any viral pins (yet) join them anyway. Why? Because I personally think that adding successful pins to your boards helps improve the health of those boards and gets your pins in front of more people.
If you look at the stats on the screenshot above you can see that I've added 269 pins to this board, but I've saved 1010. I love the content that gets shared here and so do my Pinterest followers because the board I save them to is one of my strongest boards.
Where Do I Find Tribes to Join?
There are quite a few ways to find decent Tailwind tribes. Here are some of my favourites:
You can search for tribes directly from the Tailwind dashboard.
You can join the Tailwind Tribes for Pinterest Facebook group
Or the Pinterest Tailwind Tribes Facebook group
If you use Mediavine as your ad provider then hop into the Facebook group and search for Tribes. I really like the Food and DIY tribes that have been set up for Mediavine bloggers.
You can also ask Google by searching for Tailwind Tribes + Your Niche.
How Do I Check My Stats in Google Analytics?
To check to see whether you have any visitors coming your way from tailwind tribe you need to go to Google Analytics > Acquisition > Campaigns > All campaigns and look for tailwind_tribes.